For Best Results, Choose Cover-Tek
Blood work is done during normal business hours by certified technicians. Tests are affordable, quick, and convenient. Whether you come in as an individual or experience your blood draw at a health fair, you're sure to get quality service from the experienced staff at Cover-Tek.
Most results within 72 hours
No doctor's order required
No appointment necessary
Minimal wait time in the office
Discounts on bundled packages
Onsite corporate health fairs
Select Your Ideal Profile
Get all the blood work you need in one convenient place. We've highlighted popular blood tests below, but are proud to offer hundreds more. Prices may vary based on location, event, and lab costs (which can fluctuate without warning).
Total Health Profile
This profile provides a basic overview of several health functions. The Comprehensive Metabolic Panel (CMP) provides levels for kidney enzymes, electrolytes, liver function, cholesterol, triglycerides, blood sugar, calcium, and phosphorus. Complete Blood Count (CBC) tests for infections and anemias, and provides red and white blood cell counts. The male profile includes a Prostate Specific Antigen (PSA) test, while the female profile includes a thyroid test consisting of TSH, T4 free, T3 Uptake, and a T4 total.
Heart Healthy Profile
Includes assessment of triglycerides, cholesterol counts, and other indicators of heart disease.
Prostate Specific Antigen (PSA)
Highly recommended for men who are over 40 and those with a family history of prostate cancer.
A1c Profile
This test, also known as glycohemoglobin, gives a 90-day history of your average blood glucose levels.
Hormone Panel
DHEA sulfate, progesterone, estradiol, luteinizing hormone, and follicle stimulating hormone (FSH).
Vitamin D Deficiency Screening
Analyzes functionality of vitamin D, which absorbs calcium and decreases the risk of cardiovascular disease.
Inflammatory Profile
Anti-Streptolysin O Antibody (ASO), sedimentation rate, rheumatoid factor, and uric tests monitor Gout and Arthritis.
Standard Thyroid Profile
Includes TSH, T4 Free, T4 total, and T3 uptake to aid in monitoring healthy thyroid function.
Standard Cardio-CRP
Standard C-reactive protein test for an assessment of cardiovascular, and inflammatory diseases such as lupus rheumatoid arthritis.
And Many More
At Cover-Tek, we can offer just about any blood test. Call us today for a full listing or if you have questions.
General Health Profile for Accutane Users
We designed this specific lab profile for anyone on Accutane. Dermatologists require a monthly blood test to monitor your liver and to ensure that this powerful acne medicine is not having negative affects on your health. This test includes a Comprehensive Metabolic Panel (CMP), Hepatic Profile, a Lipid Panel, and a (CBC) Complete Blood Count. Females are also typically required to have a monthly pregnancy test, which we also offer.
Food Allergy Testing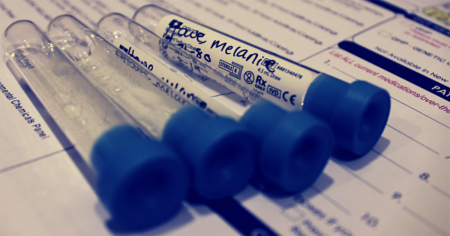 Many Americans have food allergies or intolerances and don't even realize it. These issues could be the cause of symptoms like fatigue, bloating, and stomach pain. Identifying problem foods can be challenging but the proper test can help.
We are proud to offer Food Allergy and Food Intolerance testing that can help you eliminate potential problem foods from your diet.
DNA & Paternity Testing Also Available
This unobtrusive test satisfies legal requirements in a timely, confidential manner. All you need is your driver's license and your child's birth certificate and social security card.