Stay on track and avoid eating the doughnuts
There they are. Someone at the office has brought in doughnuts….again. Maybe it was a kind gesture from your supervisor wanting to show appreciation for how hard the team worked this week. Perhaps that box of fancy gourmet doughnuts was a gift from a vendor. Maybe one of your co-workers just likes to bring in goodies now and then and today it's doughnuts. Or because it's National Doughnut Day.
Whether it's doughnuts, or cookies, or cheesecake this scenario has happened to all of us at some point in time. For most, it has happened on more than one occasion. We are  faced with temptation to indulge in something like doughnuts that we all know is not good for us. We start to go through that familiar process in our heads. The voices start talking…
"Oh I really shouldn't but isn't it rude to not eat one since they were so nice to bring them in?"
"Well, I did work out this week."
"One bite won't hurt…but that would be weird to take one bite….so I'll cut one in half." 
"Well, today was going to be a day where I started eating better, but I can start tomorrow." 
"That other half is still in there….I'll just eat it."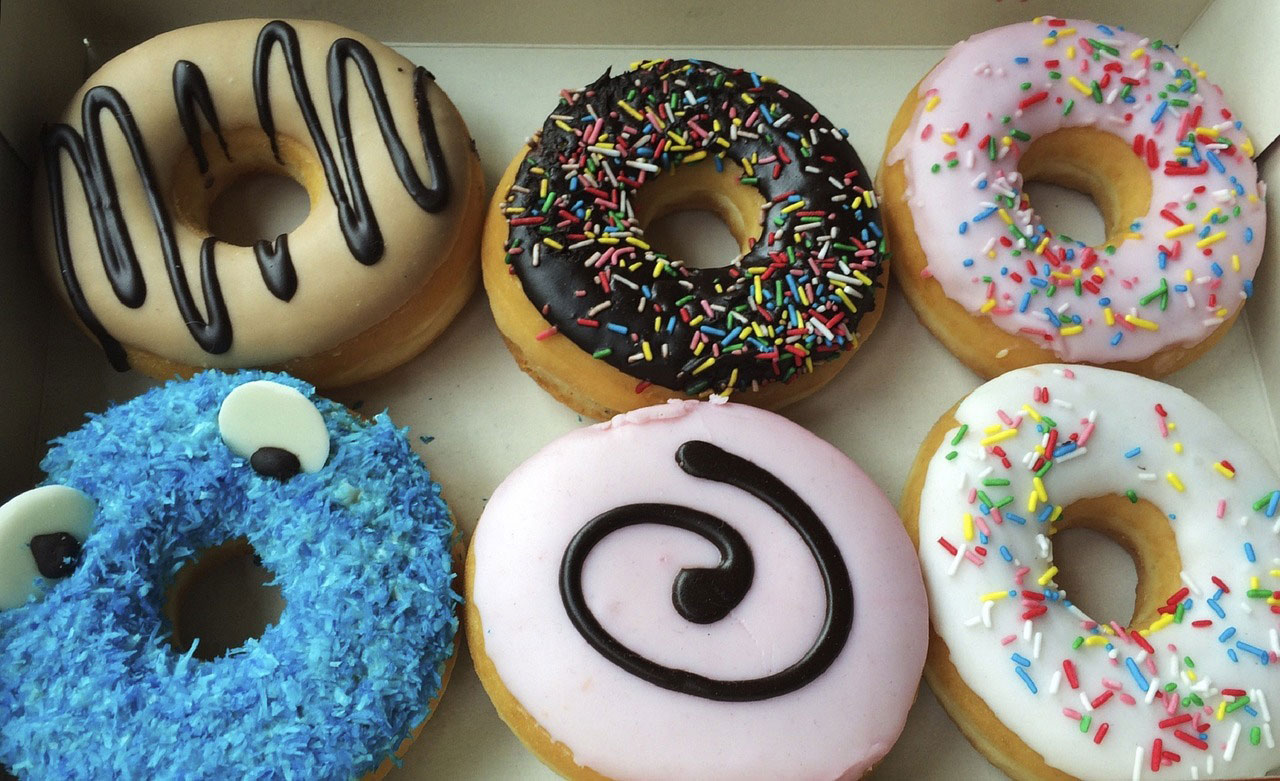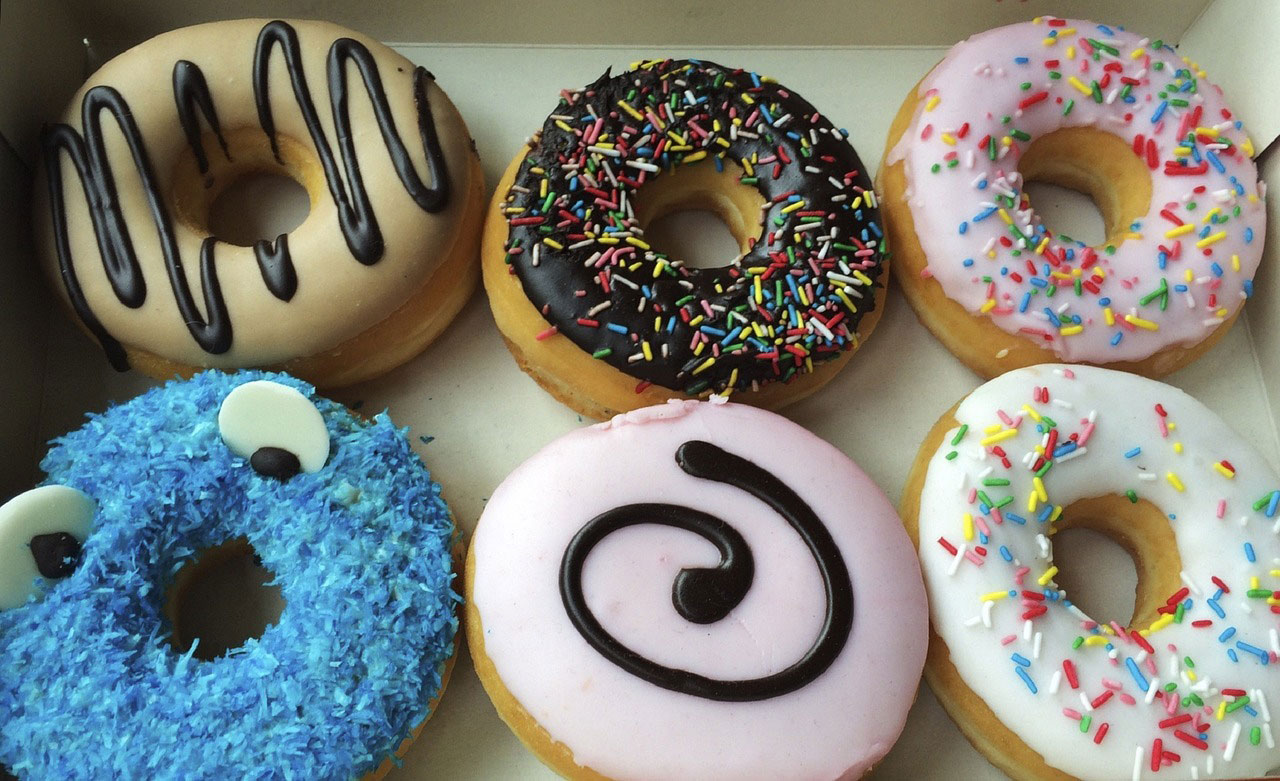 So…..you eat one….or two….or three. Then inevitably you feel some guilt, or a lot of it depending on how overindulgent you got.  Traditional Doughnuts* that are deep fried and loaded with sugar are bad for you and we all know it. Now, before the haters start going crazy here I want to point out that I am a firm believer in having a treat here and there to keep your sanity. However, if you are on a path to better health and you have goals, I want you to really dig deep and think before you indulge. So, if you want to start getting healthy or simply stay on track, then read on:
How to stay on track and avoid overindulging
Visualize where you want to be with your health. One way to do this is to make a vision board. Use Pinterest to create an inspiration board or a photo collage app on your phone. Put pictures in it of yourself when you were healthier or use pictures that you can draw motivation from. A picture of a pool for example. Perhaps part of your motivation is a feeling confident in a swimsuit at the pool.
Stop justifying. One thing many of us do is convince ourselves that we "deserve" to eat the doughnut or that we've "earned" it. Instead of justifying with yourself why you should eat what you know is bad for you, try justifying with yourself why you should skip it. Remind yourself how you will feel after eating it. Remind yourself of the wasted calories you'll be eating (for a doughnut it's probably close to 300+ calories with 200 of them coming from fat – that is not good). Justify with yourself that you CAN skip the doughnut and it will not ruin your day, in fact you will feel amazing for skipping it.
Walk away and get the hell out of there. Avoid that breakroom or area where the doughnuts are silently shouting your name. If you've ever eaten a doughnut and enjoyed it, then the site of a doughnut is going to tempt you. So stop looking at them. Sometimes this can't be avoided…like when you co-worker has put the box on the conference table where you are having your morning huddle with your team. If that is the case, see numbers 4 and 5.
The struggle is real so be upfront about it and share it. If you vocalize your personal goals and share that you are not allowing yourself to eat unhealthy foods, you are more likely to avoid indulging in them. Hopefully your team will jump on board and join your healthy journey but if not, they at least know and can be sensitive to your temptations. Most importantly, vocalizing your goals will make you want to keep up with them. Sometimes simply saying out loud, "I'm not going to eat doughnuts!!!" will actually help you not eat doughnuts. I mean, you wouldn't want to go back on your word would you?
Have a backup treat. Everyone is eating doughnuts and you're sitting there twiddling your thumbs. This can feel lonely and can even make you feel disconnected. If you always keep a healthy treat around then you can go grab your healthy treat and join in…just in your own healthy way. You might be surprised at how others may soon follow your lead.
Again, a doughnut every once in a blue moon is ok for some. But for others, it's just not part of their plan and that's ok too. Bottom line – when you're on a path to living a healthy lifestyle or getting your employees to live a healthy lifestyle, it can be tough and temptations are around us every single day. So whether it's National Doughnut Day or National Banana Split Day or National Cheesecake Day or whatever…think hard about what you're really focused on and why it matters.
*The reason I say "traditional doughnuts" here is because there are now ways to make healthy food items that are shaped like a doughnut. Don't believe me? Check these out.